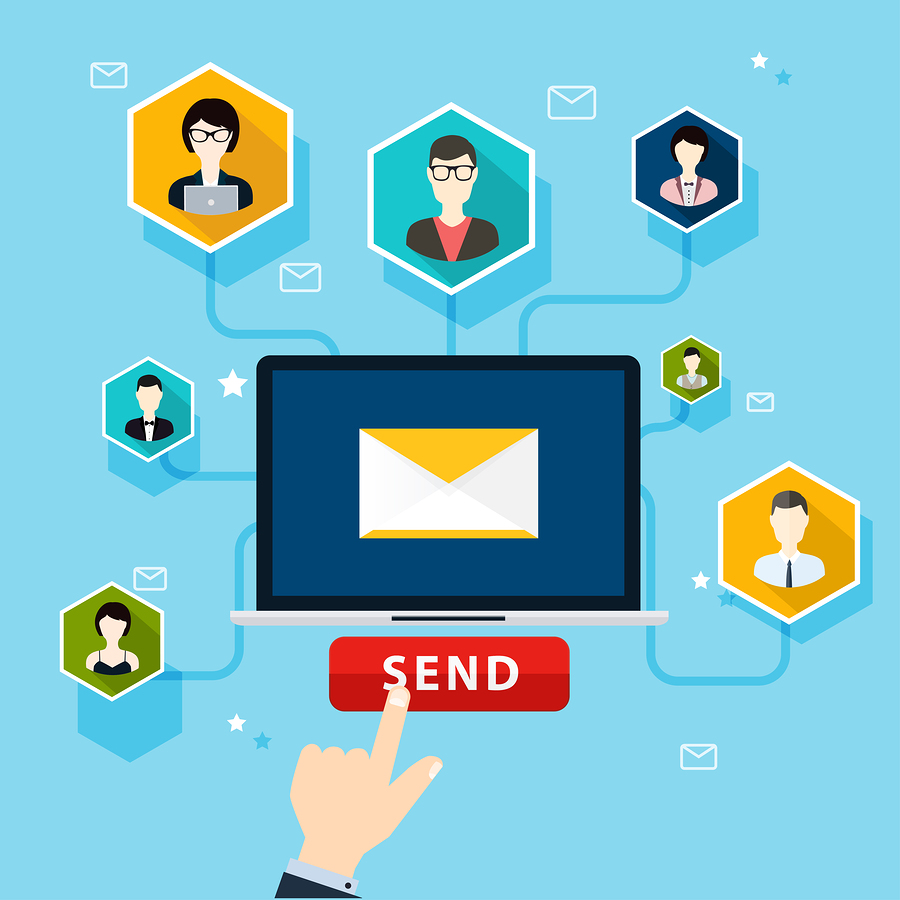 Are you looking for ways to increase your email marketing efforts in the new year in 2017? Who doesn't want to create more subscribers and loyal fans who can testify to the good points about your brand to others? Email marketing not only focuses on customer acquisition but also in promoting your brand to the masses and getting people to share it with others.
The main reason for creating an email marketing campaign in the first place is to build hype for your company and its ideals. Social media is a big part of this too. But as you will see from the following recent studies (many which were put out in 2016), there are no replacements for intensive study in what works and what doesn't when it comes to your internet and email marketing strategies.
The following case studies all illustrate the importance of not following a "cookie-cutter" pattern for anything you do as a business owner. You must find what works for you while learning what has been successful for others. Make it uniquely your own. That's what branding and being an entrepreneur is all about. Learn what you can from these studies and see which parts apply to you.
Hyping it up about your blog works wonders!
Blogtyrant.com performed a study in 2016 in which they attempted to create an inordinate amount of hype about their blog before releasing it to the public. This technique involved sending very specific and customer-centered emails to a segmented population of their subscribers which resulted in increased open and response rates that proved to be quite lucrative for this brand. With this same concept in mind, there are also many other email marketing tips for bloggers to follow as well which can be seen in this reference guide that breaks down three powerful methods such as guest blogging, utilizing top blog posts and creating lead magnets for increased email sign up and engagement.
Email is the still #1 activity on internet devices.
Mailmunch reported that, despite the trend toward social media and instant messaging, Skype, and other communications tools, email is still the #1 activity on any kinds of internet-connected devices. It is not only the most frequently accessed tool when people are online, but it is also the most frequent method of communication.
Email results in more sales and revenue.
ProfitIndustry.com reported from one of their studies that 44% of email recipients made at least one purchase based on a promotional email. This statistic alone is enough to make business owners realize the importance of sound ad campaigns and focus on spending some extra time with your emails that you send out to your leads. When you speak to the individual needs of customers rather than just sending out a scripted email created by robots, you make a big difference in your acceptance rate. In addition to the many stats featured within the report from Salesforce, also check out our email marketing stats infographic.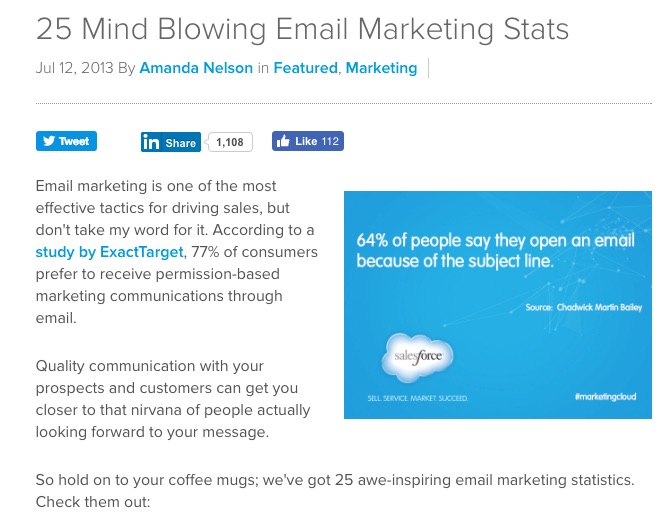 Half of an email list is active
Despite the fact that some businesses may feel discouraged in wondering whether their emails are doing any good, roughly half of your email list is active, from either people opening or clicking on emails. (Epsilon) This is a fact that is still true and the internet marketer and business owner should be aware of this as they build their new email ad campaigns in 2017.
Subject lines make a big difference.
Adestra reported from one of their case studies that subject lines with fewer than 10 characters had an open rate of 58%. This shows the importance of "cutting to the chase" when designing your email marketing letters. Less is more when trying to get the attention of leads and customers. (Adestra) When creating a winning title for your infographic, it's all about using trigger words and getting creative with your headlines. Since subject lines and content titles are limited in space, you will need to make the most out of this area that you can. Also refer to this subject titles infographic for new ideas and inspiration on your next content piece or email title.
Be personal.
Adestra also reported in the same study that for B2B companies, certain subjects lines are more likely to be opened than others. Some that had a high open rate included: "money," "revenue," and "profit," to name a few. This shows the power of speaking directly to the types of individuals who are reading your emails and using trigger words that are more likely to catch the attention of busy people.
When you personalize your emails, make it friendly and speak to the customer directly, they feel as though you know them and have a better understanding of their problems and issues. Then you can sell them what you are offering that will address this. Remember that sales is about relationships, not numbers.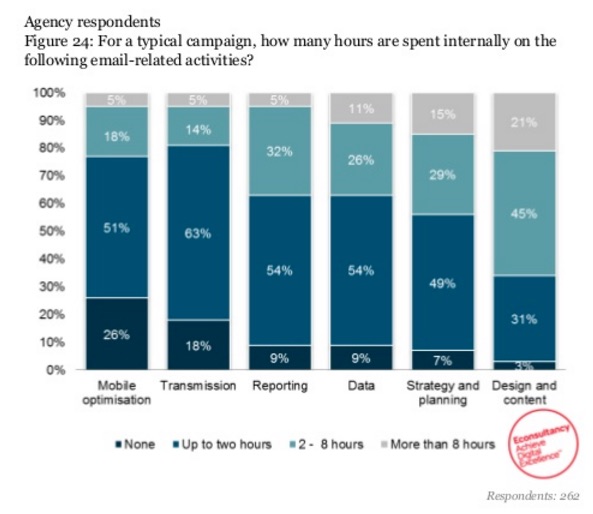 Many are not yet mobile in their email campaigns.
On the negative side of things, a study performed by eConsultancy indicated that 39% of email marketers have no solid strategy for mobile email. Though the original study was published in 2012, other factors such as frustration from customers receiving sales email ads on mobile devices, indicate that businesses are still not ready to handle the demands of mobile customers when it comes to email marketing.
Update: As of 2017, Google is about to release another algorithm update which promises to again focus on the importance of mobile email marketing and how your business can get ready for the mobile-focused challenges in the coming years. With almost 5 billion people on mobile devices by sometime this year, it's important to spend your time on what really counts when it comes to increasing your mobile customer base.
Coupons and Loyalty programs work.
If you think coupons or loyalty programs are not worth the time, think again. A study performed by the Blue Kangaroo company showed that 7 in 10 people made use of a coupon or discount that they received in a marketing email in the previous week. This illustrates how people will respond to coupons and discounts when they can easily print or act on them through email. It's probably also a good idea to create them so that they can either be printed out and taken to a local store or they can click on a link to register for the discount online and get the savings immediately.
Keeping in step with both offline and online situations will increase your customer base and create more potential for online and offline sales strategies that complement each other and draw in more leads from both sources.
Email marketing frequency impacts read rates.
Marketingsherpa.com reported in 2016 that the email read rate is in direct correlation to the frequency of emails sent by the marketer. They went on to say that experimenting with various send rates and intervals may be a good idea in order to gauge the success of different strategies.
You can increase your customer base by sending triggered emails.
Triggeredemails is a recent discovery among email marketers. Triggered emails involved targeting behaviors rather than individual demographics to determine what they are most likely to respond to. You could say that this is akin to both native advertising and customized ads. But it is also unique because you are doing it all within your email campaigns and focusing on customer actions and behaviors.
Zachy's Wine and Liquors was able to grow their client base by 53% when they targeted specific behaviors in their email campaigns by segmenting their email audience and triggering behaviors such as abandoning carts, searching, and browsing behaviors.
Increase open rates by crafting a persuasive customized email.
Neil Patel, famous for his birdseye view of marketing and his ability to focus on what is important regarding marketing campaigns, reported in a 2016 case study involving Quick Sprout, that knowing what your customers want and creating custom emails to fit this need can increase your open rate by 30% or more.
When it comes to your email marketing strategies, you just have to try different things until you see what works best for you and your business. Using these recent studies (many from 2016) as a guide, you can make the year 2017 one of the best and most prosperous years ever.
Read our other email case studies for yourself and see what you can learn about what has worked for other successful companies. We can learn a lot from each other. But in the end, we all have to do it our own way. Personalization of your email marketing campaigns is what will make it, ultimately, successful for both you and your customers.
Click here to also discover how we can send hundreds of opt-in email subscribers to your mailing list daily!
Comments
comments