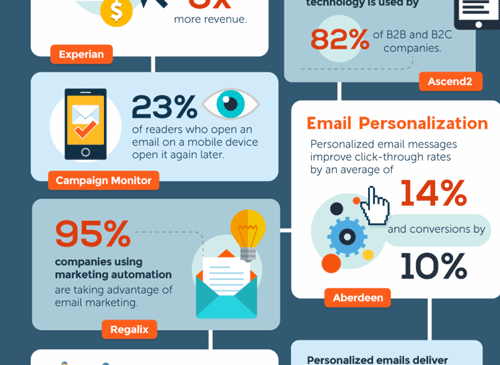 When it comes to email marketing, there is a lot you need to know. Everything from email collection, sending, ad copy, open/send rates and much more. The good news is that most email delivery systems have tracking methods in place for most of these key areas. However, it's still extremely important for you to know what's working best in the world of email today, and how to keep improving upon what you already have in place.
To help with this process, we've created the ultimate list of "37 Email Marketing Stats to Blow Your Mind", which can be seen through the infographic below. We've also hand-selected a few of our favorite stats and dove into them a bit deeper.
37 Email Marketing Tips to Grow Your Business and ROI
Email marketing is one of the most powerful and effective forms of lead generation and business in the world today. Through the use of leading data management and marketing companies in the industry today, we are highlighting 37 mind-blowing stats that every brand, business, and marketer need to know.
Special thanks to Campaign Monitor for coming up with their original list of 70 email marketing stats and tips.

Share this Image On Your Site
Comments
comments