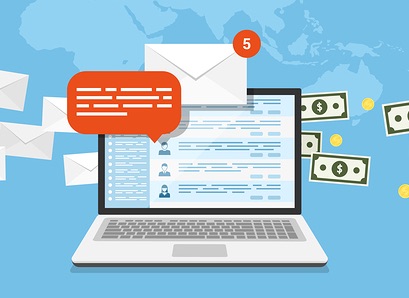 When it comes to email marketing strategies for your business, what do you currently have planned for 2017? Have you given any thought to your email marketing campaigns? If not, you should. Email marketing is still an important aspect of your business marketing strategy. But have you thought about how you are going about this? Do you think your email campaigns need a little tweaking?
Ninja Outreach, a company, dedicated to helping companies focus on their email marketing strategy, created this list of some of the best email case studies of 2016. That's the source we're using for much of our research in today's post. So go to their site and check them out for a closer look.
Vero: Case Study
The people at Vero, a SaaS email marketing product, decided to see what effects they would get from sending out four different email marketing emails. The four emails were uniquely different and had the following variations:
Emails surrounding customer onboarding
Regular blog updates
An educational course
Random offers and updates
Their general idea in sending so many different types of emails was to focus the different emails on different topics and purposes to see if it made any difference in the responses.
Results: They discovered that the first two emails, the emails surrounding customer onboarding and regular blog updates, were fairly successful. But the latter two (3 and 4) were not. Why not?
The educational course was an extra offering that subscribers could take if they were interested to further their skills in an area of interest and the last one focused on random ads about various other products.
The overall result was even worse. Only 2% of the targeted leads took any of the offers.
So, to tweak the results, they decided to focus on targeting their email campaigns to be more focused toward a specific need or "pain point." The idea or hypothesis was that they would have better results.
Final result: Bingo! A 450% increase in sales!
The factor that changed though was that they decided to send our more emails, not less. This is interesting because it seems to challenge a basis idea that people have about emails. They figure "less is more."
But if you think about it, this is not necessarily true. If you were trying to sell something in a store and you dangled a product in front of 5 customers, you might get one sale. But if you dangle 100 products, this total would increase dramatically. The same is true of email sales letters. Though you have to send more emails, you are still sending them to the same group, but with more offers. Therefore, the more you email, the more you sell. It's simply a numbers game! Read the whole study here.
Blog Tyrant
In the Blog Tyrant study, they decided to create a lot of hype about launching their blog when they first decided to put it out there. They created a nice-looking and engaging introductory sales letter that introduced the blog and spoke directly to the fashion audience. (It was a fashion blog). They spoke directly to their needs and how visiting this new blog was going to make a difference to their company or their fashion needs.
Results: Astounding! A 17,000 subscriber rate after that one email! Wow! Now that's powerful! In retrospect, the company, Blog Tyrant, says they owe their success to the following factors:
Create a brilliant brand
Understand the power of value
Know the technology that's available
Don't be afraid to spend money
Target your audience and follow up
They go on to explain that they made their blog work because they created an engaging newsletter when they first launched it. But they also pooled their resources and used their tools to find their target audience as well.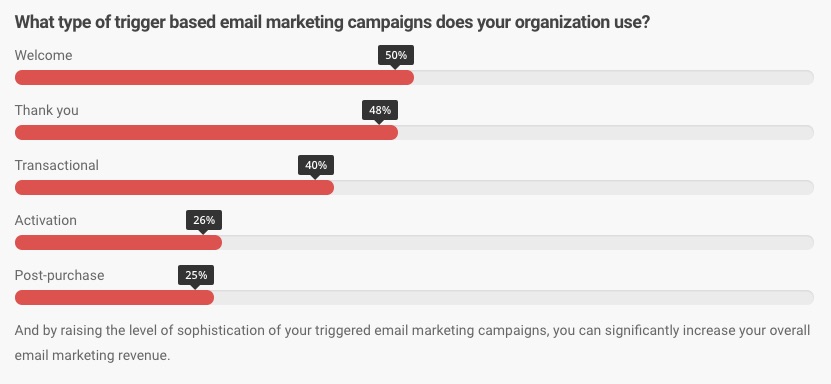 eMarketeer.com: Trigger-based Email Marketing
The eMarketeer crew decided to test out an email campaign to see how trigger-based email marketing worked.
Trigger-based emails are emails that are triggered by a specific action that a customer or visitor takes on your site. They are based on automated emails so you would want to have an automated responder set up ahead of time.
But when a customer does some action (preferably your call-to-action), it triggers an email being sent to them immediately after that, before they have a change to forget about your website and your brand.
Another way of looking at this is that you are staying "on the radar" of the customer.
This reminds one of creating "passive income, literally " be that, too in that, once created, it can theoretically, continue to make you money from then on.
The key to making it work is similar to that of affiliate marketing or any other automatic system you set up online. You need to figure out what works and then repeat it.
Beyond the initial response to the customer's action, however, there's a bit more to it. There is always follow-up. This involves following up on the customer's actions with another email that follows up on another email.
In this case study, they had four basic types of trigger-response emails:
Welcome
Thank you
Transactional
Activation
Post-purchase
Results: The results were positive with the trigger-based emails, and they noticed increased clicks, conversions, and return purchases overall. Of course, much of the success will be determined by how well business owners target the message to follow up with the actions they want to encourage.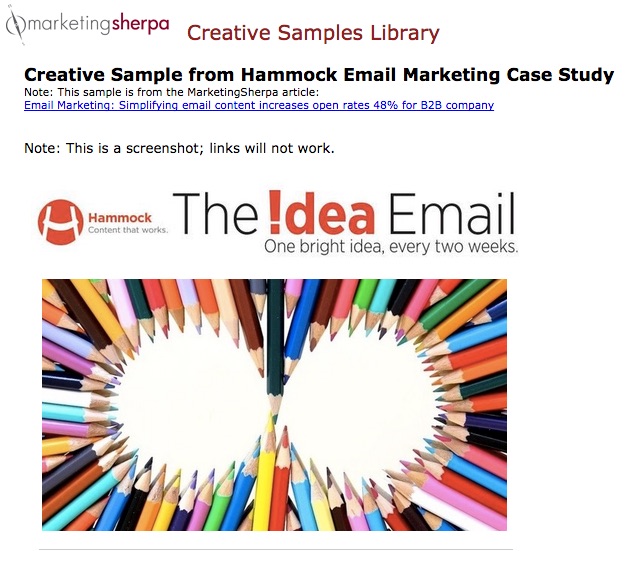 Marketing Sherpa: It's Not About You
Another important study dealt with Marketing Sherpa and the Hammock company. Hammock wanted to increase its customer engagement and purchase rate and increase their client base. They realized that one of the main problems was that business owners tend to focus on their successes rather than what they can do for their clients.
So they started tweaking their email campaigns to answer the question: "What are we doing to help our customers in our email campaigns?"
Some of the solutions they tried involved testing and tweaking the subject line to make it more about what customers wanted, being more intentionally focused with the individual emails, and establishing a process that could be repeated.
Results: After making these slight changes, they noticed an immediate improvement in the number of responses sent to them by customers, as well as the overall click through rate because they took the time to focus on what their customer wanted.

Case Studies to Help Your Email Marketing in 2017
As you can see, there are a lot of things we can learn from these case studies. It helps to read through all of the details, which we never have time to do in these posts. But we hope to draw attention to them in some way so that you can start to see the value in targeting your audience, focusing your content, and pleasing your potential customer.
When it comes down to the final analysis, it's about what you can do for your customer, not what they can do for you.
A John F. Kennedy quote comes to mind here as we close: "Ask not what your country can do for you, but what you can do for your country."
The same thing applies to business. When you figure that out and find something that works, it's just a matter of "rinse and repeat" from then on! So as you think about the approaching new year, think about how you can do more with your email campaigns.
One of the best ways to accomplish this, is by actively growing your mailing list with new opt-in subscribers daily. This is something AfterOffers has actively been doing for years now. Through out network of content-rich websites and blogs, we are driving thousands of opt-in email subscribers to list owners daily. Click here to learn about how we can start doing the same for you.
It just might make 2017 your best year ever!
Comments
comments