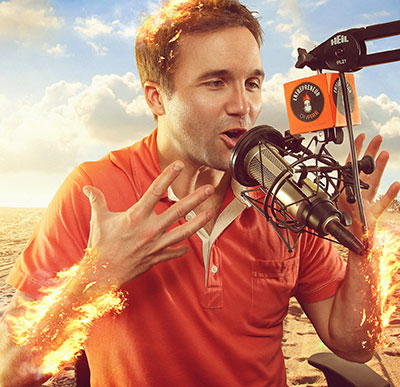 One of the most amazing things about email marketing is that it works in nearly any niche market that you can possibly think of. It doesn't matter if you are selling a product, trying to increase traffic to your site, or even launching your own podcast — email will work amazingly with each of them.
In our continuing efforts to provide you with the latest and greatest tips from email marketing experts around the world, we recently had the opportunity to connect with John Lee Dumas, the podcaster and entrepreneur behind EOFire.com.
As a well-known name in the world of entrepreneurship and podcasting, John Lee Dumas knows as thing or two about email marketing. Not only does he have one of the most successful podcasts in the world, he also has a very large mailing list which generates a large chunk of revenue every month. John has his email marketing down to such a science, that he actually created a free mini-course on the topic as well, perfectly titled Funnel on Fire. Be sure to grab you free PDF download to help perfect your email marketing and sales funnel.
Now onto the email marketing tips! Here's what JLD had to say.
1 – Please briefly tell us about yourself and how you got started with online marketing.
My name is John Lee Dumas and I got started in online marketing in 2012. Before then, I really had no idea what running an online business was like – no social following, no email list, no website, and no experience.
What brought me into the online marketing space is podcasting. In mid-2011 I switched careers and became a Commercial Real Estate Broker, which had me spending a lot of time in the car. As a result, I started listening to podcasts for educational and inspirational purposes. I gravitated towards interview-based podcasts that talked about business, specifically with entrepreneurs.
Trouble was, I was in the car so often that I started running out of content to listen to; no one was producing a business podcast that interviewed entrepreneurs 7 days a week (and that's how often I was in the car). I saw a need and decided to fill that gap.
2 – Is email still the most effective marketing platform today… and how has it changed over the years with the addition of social media and mobile?
Email is definitely a STRONG contender when it comes to effective marketing, if not the top one. There are few more intimate places you can connect with your audience than in a place as sacred as their inbox. This is your DIRECT CONNECTION to your biggest fans – those who care enough to raise their hand and say "YES! I want to hear more about what you have to offer!" That is powerful.
3 – With so many different email platforms to choose from, what should marketers specifically be looking for?
I'm a fan of having as many options in one place as possible (so I have fewer places to be / manage), so the more an email platform can offer you (for example, not just the ability to email a broadcast, but also the ability to create drip campaigns, tag contacts based on behaviors, give you the ability to build landing pages and order forms, etc), the better.
4 – What is your preferred method of collecting emails and building your list?
I think welcome gates (or welcome mats) and light boxes (or pop up boxes) on websites are both so powerful. We've seen huge increases in our subscriber numbers since implementing these two things on our site.
5 – What are your best tips for writing effective email titles/content that get opens and clicks?
It starts with knowing your audience, and it continues and improves with practice. Even if you're the best copywriter in the world, you have to know your audience in order to write effectively to them. And even if you're learning from the best copywriters in the world, your audience wants to hear from YOU. Finding your voice and letting your personality shine through your messages is so powerful for connection, likability and trust. It's not just about learning a formula, it's about improving over time through practicing.
6 – Based off your own experience, is it better to send long form or short form written content in emails to your mailing list?
I think it depends on what your goal is. In most cases, I find that BIG ideas and value bombs delivered through short, sweet copy works best for my audience.
7 – What is the best way to setup an effective autoresponder series?
Again, it's going to depend on what your goal is. If you're trying to get people to show up for a webinar, that autoresponder is going to look a lot different than if you're welcoming a new subscriber to your email list. The most important thing is to keep your subscribers in mind. What do THEY want from you? Are they super busy and having a hard time keep up with their daily life – let alone their inbox? If so, it's probably not going to be of value to them if you set up an autoresponder that goes out daily.
Generally speaking, I think 3-4 days in between emails is a good time frame for an autoresponder sequence. As for the content, it has to have meaning for your audience, otherwise they'll quickly realize that opening emails from you isn't a priority. Of course, this equals less engagement and poor retention.
As for a call to action, it's important to remember that not every call to action has to mean that you're "selling" something. A call to action might be you sharing a piece of your content, or asking your subscriber to reply to your email and share something with you. Every email you send should have a goal and a call to action that serves that goal.
8 – If you had to start over from scratch and only had $1,000 to start a new mailing list, how would you spend it?
Invest in a Click Funnels account so I had solid platform to build my funnels from.
9 – Lots of site owners and marketers have mailing lists, but they aren't making money with them. What are they doing wrong?
They aren't consistent enough with emailing and sharing VALUE with their audience (caring about what their audience cares about). If the only time you email your list is to ask them to buy something from you, of course they aren't going to buy from you. You have to build a relationship FIRST, nurture that relationship, provide as much value as you possibly can, and do all of that consistently before you will ever be able to successfully sell to your list.
10 – If you could tell online marketers and brand one thing that could improve their email marketing and list growth, what would it be?
Be patient when it comes to growing your list – growing an engaged list takes time – and continuously engage with your readers. I personally read every single email that comes into my inbox, and if I have the answer to the question or can engage in a conversation with my reader, I will do so 100% of the time. People want connection, not a dead end.
Special thanks to John Lee Dumas for taking the time to share his email marketing tips and expertise. Check back weekly for a new interview in our Email Marketing Experts series!
Comments
comments