If you want to grow your mailing list fast, you are going to need to offer something of value to your audience. One such method that was discussed in our "how to growing your mailing list fast" article, was the use of a popup or lightbox window to increase user signups. Depending on the current levels of traffic hitting your site, this type of marketing is extremely effective and can instantly add hundreds of new signups to your mailing list every day. What's even more exciting is that this can be accomplished with no additional costs or marketing on your part.
The way a popup or lightbox subscription works is simple. When someone visits your site for the first time, they will see a popup window appear that offers something of value in exchange for their email address. The user then has the option to enter their email address to claim the offer, or to click the "X" and close out the window. No matter what action they take, a specific action is needed from the user either way — thus resulting in the high conversions this type of marketing usually delivers.
Software applications like SumoMe, Popup Monster or Popup Domination are the main drivers for this type of marketing, but there are other solutions out there as well. These tools make it easy to not only create such windows, they also make it easy to track and split test performance as well. Site owners can also decide how often they want these types of popup subscription forms to appear for their audience (# of days), and if they want to test with exit popups as well.
How Top Bloggers are Using Popup Subscription Forms
To learn more about using popup and lightbox windows to increase mailing list size, let's take a look at some of the top blogs on the internet today. Not only will we be looking at their sites, but also the popup windows and call to actions they are using to boost signups on their site.
Backlink.com
Brian Dean is one of the top experts in the world for SEO and creating content that ranks in the search results. When you see Brian using something on his site, you know it must be working. Below you will see his popup form to get subscribers on his mailing list by offering them his best checklist of #1 SEO techniques.
ProBlogger.net
Darren Rowse is one of the most popular bloggers in the world today and has been blogging for well over a decade now. Once you visit his site you will be able to browse through his thousands of pages of content. While doing so, you will also be greeted wth the popup subscribe form shown below that offers 6 months of free blog prompt posts. Something Darren's audience would definitely find a lot of value in.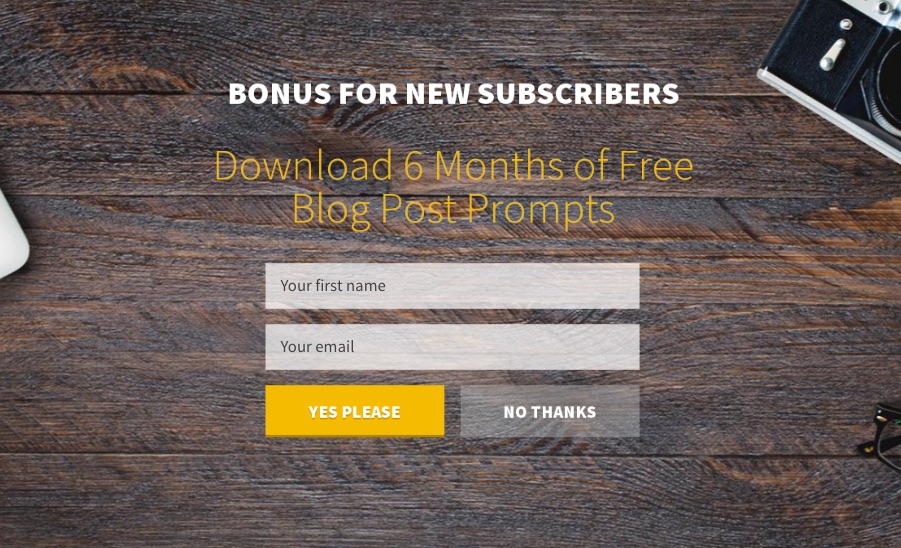 Blogging.org
As one of the largest blogging resource sites on the internet, Blogging.org has a wide range of audiences coming to their site — most of which are looking to start a blog for the first time. Through the use of the popup window shown below, Blogging.org can offer their audience a quick start guide and free bonuses for anyone who is ready to take action. Something unique about the popup shown below, is that it also include a countdown clock — which likely increases conversions even more.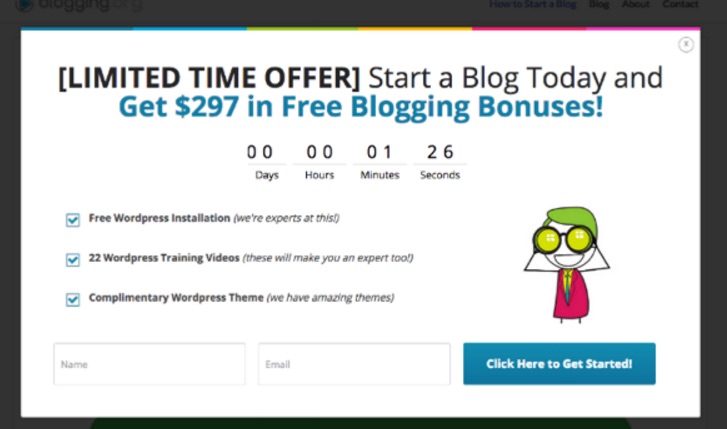 Chris Brogan
Not all popup windows and subscribe forms need to offer something of value or for immediate download. A perfect example of this can be seen through Chris Brogan's blog. His popup form simply says "Get my best work sent free.". While this might not be the best way to incentivize your audience to join a mailing list, it will definitely weed out anyone looking for a quick freebie. When Chris sends a mailing out to his list, there is a good chance nearly everyone on it is interested in hearing what he has to say.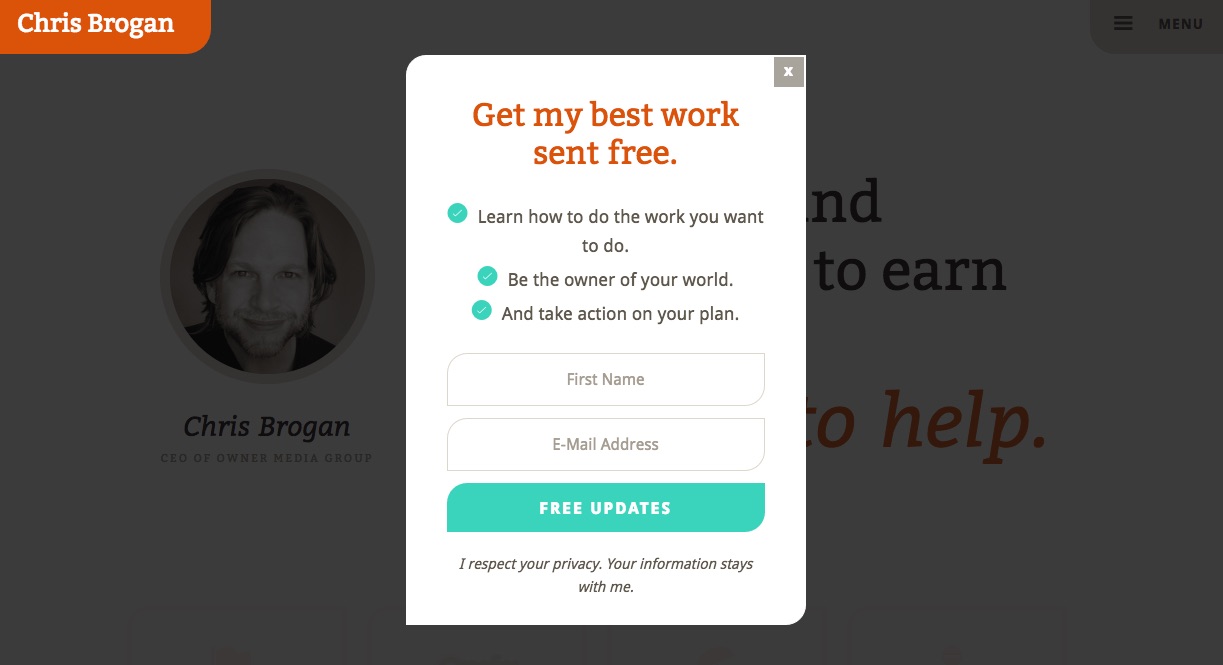 Neil Patel
As one of the leading marketing and branding experts in the world, Neil Patel has made a profession out of creating killer content and converting users into paying customers. This is what you will find through both his QuickSprout and Neil Patel sites. Once you hit his site at NeilPatel.com, you will be greeted with the following popup form. Outside of the great call to actions and color placements, the addition of Neil's photo is also a great way to increase trust and building a relationship with his audience.
Elegant Themes
E-commerce sites and business blogs can use popup windows to increase signups as well. A perfect example of this can be see through the popup below from Elegant Themes. Instead of offering a free download, they are simply offering a 10% off coupon for their themes and plugins. Not only will this build up their mailing list, it will also provide them with new customers in the process.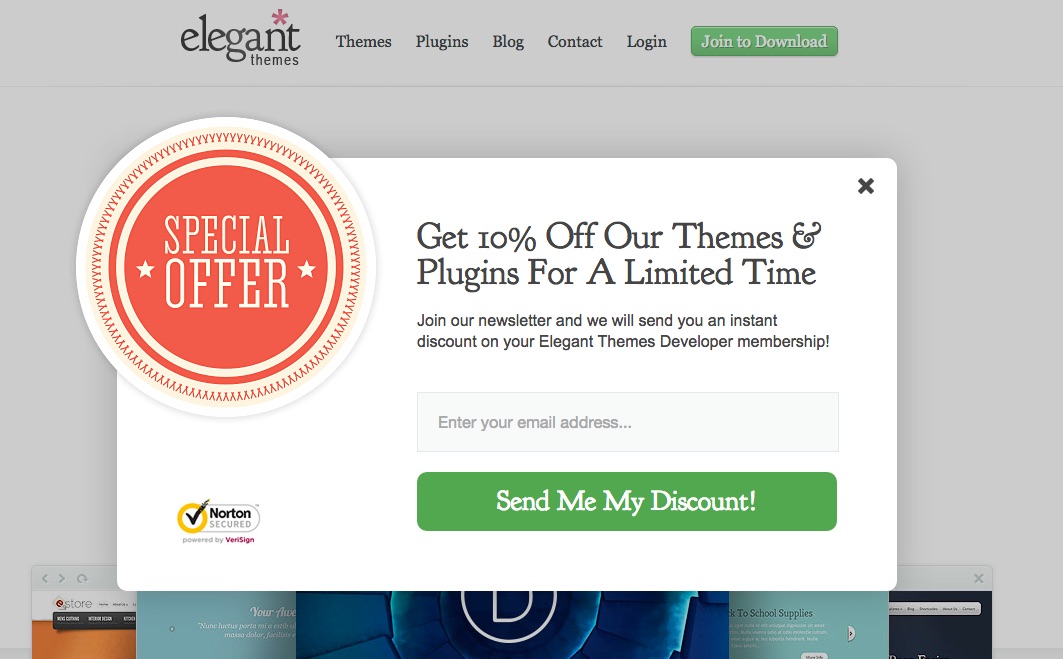 Social Media Examiner
As one of the largest resource sites for everything relating to social media, Social Media Examiner currently has over 400,000 subscribers on their mailing list. What's different about their subscription form versus others, is the amount of text they have. While many other sites go with "less is more", SME must know something other sites don't!
How to Build a Great Subscriber Call to Action
No matter what method you are using to get people on your mailing list, you need to be offering something of value. Through each of the examples above you can see how each site took the time to create a meaningful call to action that related with their audience, then made it only available to their mailing list subscribers. What type of similar offer could you make to your audience?
AfterOffers currently works with websites and brands around the world to help grow their mailing lists. Part of this process is coming up with a great call to action title, description, and image for their mailing lists.
Contact us today to set up your first co-registration campaign and increase your mailing list overnight!
Comments
comments