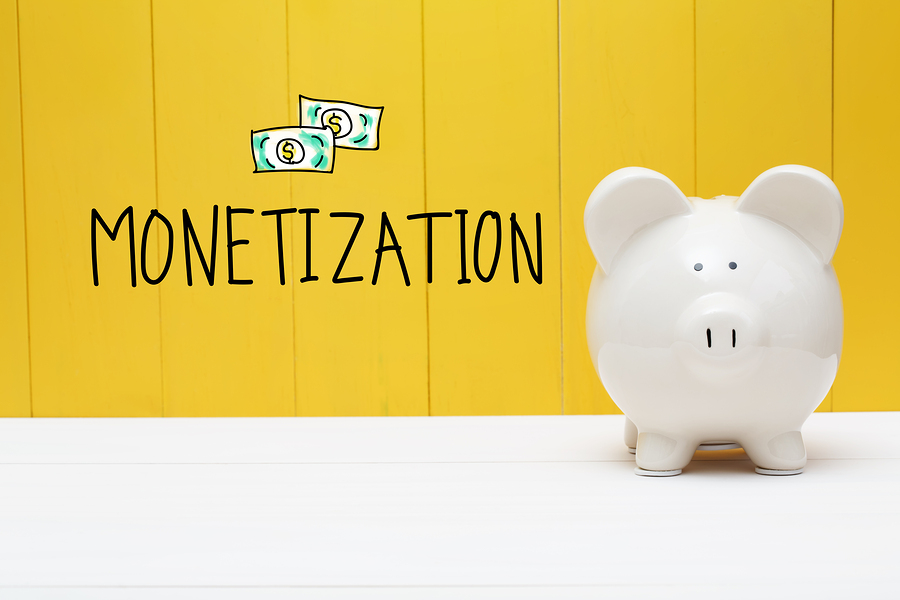 Whether you're a sports enthusiast or a religious writer, blogs are great for sharing your passion and they can also help you earn a good amount of money. There are plenty of people who work full-time on their blog and earn a full-time income as a result.
At the same time, blogging can be one of the most effective ways to also build your mailing list and generate additional revenue in the process. Even if just 5% of the visitors to your site end up joining your mailing list, this can add up to thousands over the course of a month or year.
Now, there are many who will tell you that blogging isn't lucrative and it's not worth the effort. The methods listed below will prove that misconception as false.

1. Building a Mailing List and Lead Generation
As mentioned at the beginning of the article, having a website or blog is one of the best ways to grow your mailing list. With a mailing list of your own, the possibilities for earning revenue from your audience is pretty much limitless. It doesn't matter if you have an e-commerce site, an online resource or simply a personal blog where you are writing about what's going on in your life or a topic based around your passion — a mailing list is a great thing to have.
Outside of using your mailing list to increase sales, engage with your site visitors, and promote any sales or discounts you might have going on, there is another great way to generate revenue through your site and mailing list as well. This method is through the use of connecting with AfterOffers and becoming one of our premium site partners. The way it works is quite simple — when someone subscribes to your mailing list, the visitor will also have the option to subscribe to some of our partner mailing lists as well. This is a 100% opt-in and non-obtrusive process. Best of all, you could start earning .75-$1 for every new email subscriber you send our way.
Just ten new subscribers to your mailing list per day could be generating hundreds of dollars in revenue for your site every month. To learn more about this process, click here.
2. Sponsored Posts
If you've developed a strong following on your blog, companies will normally take notice and consider your blog as a prime time space to advertise their content. However, it needs to be done in a totally organic way. If you're a golf blogger and talk about pacifiers for Gerber, your audience will see it as a purely financial deal and deem you as inauthentic. Make sure the partnerships match your brand and seem relevant. That same golf blogger might experience aches and pains after a long day on the golf course. Partnering with a pharmaceutical company that sells over-the-counter pain relievers makes sense. No, pain relievers aren't solely for golfers, but it's applicable, relatable and helpful. Usually, sponsored posts have to be a certain amount of words and many companies prefer to see the post before it goes live. If you decide to use the power of a sponsored post, be prepared to complete edits and receive feedback from the company.
Some bloggers admit that this part of the process can seem a little tedious and annoying. However, if they're paying you handsomely, it's worth the effort. As you negotiate prices for the sponsored post, find out if there's an avenue to passive income you can receive from the deal. For example, the company pays you one time for the post, but usually receives continuous sales from the traffic the post receives. Find out if you can get a cut of the profits from the sales in the form of a passive income stream. Most companies look at the sponsored post process as a one-time deal, but don't be afraid to negotiate and bring it up. The worst a company might say is no. If the company says yes, this equates to more money in your pocket.
3. Create an Online Course
There are lots of different ways to create a solid online course and these days, with all of the hosting platforms available it's super easy to set one up. But which online course platform is best?
Here are some great resources that have done the research for you:
– How to Choose the Best Online Learning Platform: 5 Steps to Find the Ideal Tool (Mirasee.com)
– The 15 Best Online Course Platforms (and How to Choose the Right One) (SellingOnlineCourses.com)
If you're struggling to figure out what you would teach, take a look at the topics on your blog. If your blog focuses mainly on side hustle ideas, consider offering an online course that takes the students from Point A to Point B with legal paperwork and becoming an established side hustle. Another course could focus on the hiring and outsourcing work within the side hustle to help it grow. As you continue to blog, your readers will show you what they're most interested in learning about. It's also a good idea to consider their actual voices. Do a few polls or surveys to find out what your readers want to know. As the answers come in and you get the ideas, turn those questions into full-blown courses.
One of the great things to note is that there are really not technical skills required to go live with a course of your own. For example, a platform like Kajabi has made it extremely simple for anyone to go live with a course of their own, simply by using their drag-and-drop editor to not only create the course content, but also a fully functional website and member area as well.
Advertise the courses through your website. It's also great to advertise them through social media. Use your blog as leverage to show readers that you have expertise in the subject matter and you know what you're talking about. At the same time, if they want to go to the next level in their experience, they have to pay to play. Once people go through the course, reach out to them individually and give them a questionnaire or review form. As them to give their honest opinion on the course regarding what was good and what needed improvement. Consider their feedback and then work toward improving the courses. As they become better, more people will want to take the courses. As more people actually take the courses, you'll get to enjoy more money coming to you.
4. Affiliate Marketing
There are lots of major retailers that have strong affiliate marketing programs. Retailers like Amazon and ModCloth are just a few examples. Take a look at what your content seems to revolve around and then join a program that aligns with that content. Amazon's affiliate program is typically universal for everyone. If you're a fashion blogger, you'll probably want to sign up with retailers like FashionNova, ModCloth and more. Make sure the retailers you choose have clothing that matches your style. If it doesn't match, it'll only appear inauthentic.
Next, you'll want to create content that includes the affiliate links in a very organic way. If a mommy blogger is creating a list of ideal Christmas gifts for boys under the age of 3, include an affiliate link with each item on the list. Once this blog post gets published and many people see it, people will typically by what you recommend. As long as you build a strong relationship and maintain credibility with your audience, things should work smoothly. This monetization strategy is also beneficial because it can be deemed as an effective passive income stream. You put in the grunt work at one time and then reap the benefits of the affiliate links as long as the post is live and gets circulated to more people.
If you decide to add a YouTube channel or social media content to support your content on your blog, use those same affiliate links on those platforms as well. This will also help you gain more exposure. With YouTube, place the affiliate links in the description box and then include a link that takes viewers back to your website. As long as this strategy is optimized well for search engines, you'll gain a continues flow of traffic in this area over time.
5. eBooks
Digital content has been easier than ever to produce. This also includes eBooks. Amazon has the Kindle library. Kobo, Barnes & Nobles and other retailers have opened up digital databases to house the eBooks of various authors. You can take the commercial route of using one of the retailers to promote your book. As long as you upload it and link it back to your website, it's forever linked to you. The Amazon Kindle library works for many people because of the high level of traffic they receive from it. Amazon is a powerhouse and oftentimes, people visit and are ready to consume whatever the latest book is. Within your book, make sure your readers know to come by and visit your website for more information on what you're up to. Investing in Amazon ads and marketing strategies will help get the book far as well.
You can also take the grassroots approach and sell the eBook straight from your website. You'll cut out the middleman with this method. You won't have to give any of your money to Amazon because they housed your book. You'll need to purchase the products or services that involve hosting your book on your website. If you're okay with learning the process of hosting and managing the transactional details through the website, it's a great way to go as well. One of the conveniences with an eBook is that it's a digital download. You don't have to worry about ordering more paperback or hardcover copies. You eliminate the shipping process and if anything goes wrong and a person doesn't receive their download, you don't lose resources like money to send them a new copy.
6. Coaching Services
Coaching services are incredibly helpful because they allow a person to really experience the benefits of a more personal approach. Coaching services are becoming more popular because people want to connect with other people. There are a few ways to approach the coaching concept. First, it's important to consider that your time is a limited commodity. You don't have a ton of it to give away. Knowing this, it's good to keep a limit on the number of people you accept into a coaching program. If the demand is great, consider an application process where some people are chosen and others are considered for the next time the program opens up. If you have a lot of people you want to coach, do a group coaching format. Put 4-6 people in one group and block out a 1.5 hr mastermind session once a month. You can help people individually through this process and they can also help one another for accountability. This can be an extremely lucrative way to monetize your website as you move into 2018.
7. Tutorials and Walkthrough Guides
Every day, millions of people are heading over to Google to search for new ideas, ways to accomplish things, and even get started with a website, mailing list or online business of their own. No matter what it is someone is looking for, they are going to find a reliable and useful resource online to help them achieve it. Not only does this provide value to the end user who is looking for such information or guidance, it is likely also generating a lot of revenue for the end site user as well. A perfect example of this can be seen at BlogNinja.com, where the site is completely dedicated to walking a user through the process of starting their first website or blog. While the site has created a ton of original content and offers free guidance on how to register a domain name and set up hosting, they are likely monetizing the process through affiliate marketing, Google Adsense, and of course email marketing.



Now is the Best Time to Start Making Money on Your Website or Blog
People don't just blog for the fun of it anymore. Because there is legitimate money a blogger can make, most don't care to do it for free and rightfully so. It's important to manage your time wisely and invest in hobbies that will pay you back. Whether you choose to use a blog as a hobby or a business in 2018, remember that there are ways to legitimately earn money and make it worth your while from a financial standpoint.
Having gone through seven of the most effective ways to make money with a website or blog, it's now time for you to take action. Don't forget, if you want to massively grow your mailing list at a fast pace, while also making sure your subscribers are 100% opt-in, be sure to contact us today!
Comments
comments