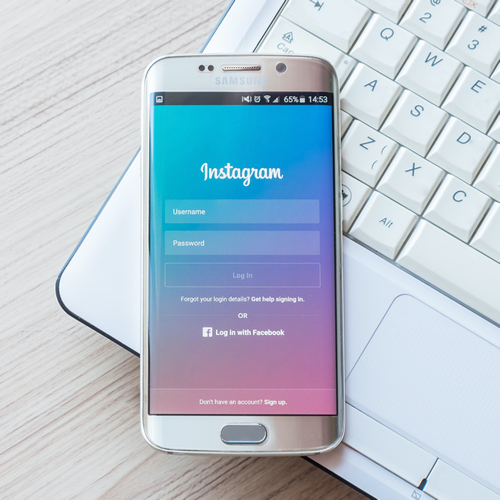 Social media has been one of the biggest drivers of traffic and leads to websites and online brands for a while now. If you've been around long enough to remember MySpace, it's all about adapting to each social network differently and knowing how to provide the best value to your audience. This is something many brands still haven't figured out, but fortunately, there is still plenty of time to take advantage of what social media has to offer.
Today we are going to be looking at Instagram, and not only how it's changed the way users connect with each other through social media, but also for brands and businesses as well. Instagram is completely different from Twitter, LinkedIn, and Facebook — so it definitely takes some time and effort to master, just like email marketing for anyone just getting started.
To help our site visitors and email client focus some of their efforts to social media, and specifically Instagram, we created the 4-point resource guide that covers everything from hashtag usage, content creation, getting users back to your site and also how to rank your profile page in Google.
If you aren't currently taking advantage of what Instagram has to offer, right now is the best time to get started.
1 – Use the Right Hashtags… and Lots of Them
Hashtags are nothing new, and they are also being used on Twitter and Facebook. However, the biggest and most active usage of hashtags can be seen on Instagram. Through the use of their search box feature and millions of Instagram updates going live every minute, hashtags are the gateway to reaching new audiences and getting new followers on the platform.
Take a look at any of these Instagram hashtags and you will quickly see how much of an influence they can make to your social reach and status updates. Some of the top ten trending hashtags on Instagram on a daily basis are #love #instagood #photooftheday #fashion #beautiful #happy #cute #tbt #like4like and #followme. If you aren't finding a way to create original content that fits into these hashtags, you are potentially missing out on millions of views daily.
You can see a creative way to target various hashtags through the visual status update below.
Finding success on Instagram isn't about just hashtags and growing a massive following, it's also about knowing how to create content for your audience. Since Instagram is completely visual, it's important to put in the time and effort to create original content just for this social platform.
2 – Create Original Content Just for Instagram Users
With content creation in place, Instagram is a completely different beast in itself. While Twitter and Facebook are all about sharing updates, links, and content from other sites, Instagram is all about the visuals. In fact, Instagram won't even let you link to other websites within their user updates.
So what's an online brand or social user to do? Simple… focus on growing out your following and content on a daily basis, while also using custom images and branding to interact with your audience. You can see an example of this through the MoneyReign.com Instagram feed. Their site focuses on celebrity net worth articles, and they update their Instagram account 1-2 times daily with a new visual on a different celebrity and what they are worth.
This makes for a quick and fun visual read, but also promotes the site in the process. Notice the "@MONEYREIGN.COM" at the bottom of each image. It isn't much, but when you consider the number of people potentially seeing an update, only a small fraction of visitors remembering that name and visiting the site will make a big difference.
This type of branding and quality can also improve the chances that someone will not only follow an Instagram account but also visit their main profile page as well — which includes a backlink to the user's main site.
3 – Have a High-Quality Image and Profile that Grabs Attention
Leveraging Instagram to get users back to your site is tough, but when you have enough followers and are putting out new content daily, it's almost like a free gateway of traffic flowing back to your site daily.
Of all the different niche markets on Instagram, fashion has to be the biggest. Many fashion bloggers and Instagram users have follower numbers well into the several million ranges. These are some serious numbers, and definitely something we can all learn from.
If we take a look at @StyleHeroine for example, we can see that she has over 235,000 followers. More importantly, take a look at how she is using Instagram's profile page to not only better brand herself, but also how she highlights her expertise, business model of creative consultant, and also displays her email address and a clickable link back to her site. More important, none of this looks promotional or salesy, which her audience is going to appreciate.
No matter why an individual or brand might be using Instagram, they should strive for these same results as well. However, don't be afraid to use the profile URL as a way to collect email addresses. We continually see many brands and power users sending traffic to email landing pages in order to collect Instagram user emails, then connecting with them through email in addition to within the social platform.
4 – Use the Ranking Power of Instagram to Secure Your Brand
Like all social networks, when it comes to their SEO and ranking value, they are all very strong. The same is true about Instagram.
A great way to take advantage of Instagram again is to simply send some additional backlinks to your profile page. This should allow your profile page to start ranking higher for your personal name or brand. You should already have some nice backlinks from your other social profiles and websites linking back to your Instagram profile, but if this isn't doing the trick, try to set up a few more.
You can see this already in action for @GaryVee, if you were to search for "Gary Vaynerchuk" on Google. His Instagram page usually ranks around #6 or #7.
What's the benefit of this? Well, there are many. One of the most obvious is to make it easy for people to find your Instagram account. Another is to help further protect the reputation and integrity of your brand. Ranking your own websites and social profile in Google is key to better brand reputation management.
To get a better understanding of how Gary Vaynerchuk leverages his massive reach on all social platforms, and especially Instagram, be sure to check out this article from ContentGrind. Inside this article, you will discover the three key content strategy lessons that Gary is using to create one of the most powerful and fastest personal brands on the internet today.
Social Media is Great… But Email is Still Best for Immediate Results
Instagram is one of the hottest social networks in the world right now. Throw in that Facebook owns the social platform and that they also offer advanced demographic and user targeting features for paid advertising, and your options are limitless.
At the same time, with all of the attention that social media is getting these days, don't forget about the power of email marketing. We are here to help you with the process of setting up an opt-in email marketing campaign, where you not only gain new subscribers daily but also improve your ROI in the process. We can deliver hundreds of new opt-in email subscribers to your list daily, without breaking the bank in the process. Contact us today and discover how easy and effective email marketing and growing your list can really be.
Comments
comments