On the internet, it's all about traffic, leads, and sales. Without these in place, you are no really a business. Anyone can create a website, blog, or even a landing page, but if you are just another piece of content floating amongst a billion other sites, your 'business' is destined to fail.
Today we are going to be sharing some expert advice, resources, and case studies on the best methods being used today to increase sales and turning regular audiences into paying customers. Best of all, each of these methods can be applied to almost any business model out there.
With so many options for new traffic sources, and different ways to analyze, track, and engage with an audience — if you aren't making sales today, you soon will after reading through these real working examples and case studies.
Building a Business, While Building a Platform
No matter what you are selling online or offering as a service, your business model needs to connect and resonate with different audiences around the world. With content creation and text articles saturating the internet on a daily basis, there are better ways to reach your audience — such as social media and using video.
A perfect example of this can be see through the videos created by Russ Ruffino on YouTube. Not only is he providing value that can be consumed in visual and audio formats, it also all plays into his overall marketing plans.
In this marketing method, we also discussed how social media should continue to be used as well. Once an entrepreneur or brand has written and video content created, they can then start doing their own remarketing and lead generation campaigns through platforms like Facebook, Twitter, and Instagram.
The ability is actually there to target visitors that have already seen/liked your website or brand, then serve different video and contextual ads to them based on their progress and what they've already seen from you. This is actually how Russ went on to generating monthly webinar series that earned him over $500k per month by putting digital marketing and automation to work for his business.
It's All Starts with a Simple Email…
As one of the leaders in email marketing and lead generation, we get to work with hundreds of companies to not only deliver more leads, but to also help them with conversions and optimization as well. We also get to see that many brands are doing email marketing and mailing lists in the wrong way.
A common occurrence is for someone to create a website or blog, then have a mailing list or newsletter. Often times we are seeing this same process, and the big mistake here is that they are collecting email address, but letting their lists go dead.
In short, they aren't following up, engaging with their mailing lists… and just letting good data left to rot.
The better option to market and manage new subscribers to your list, is through the use of automation and using a solid sales funnel.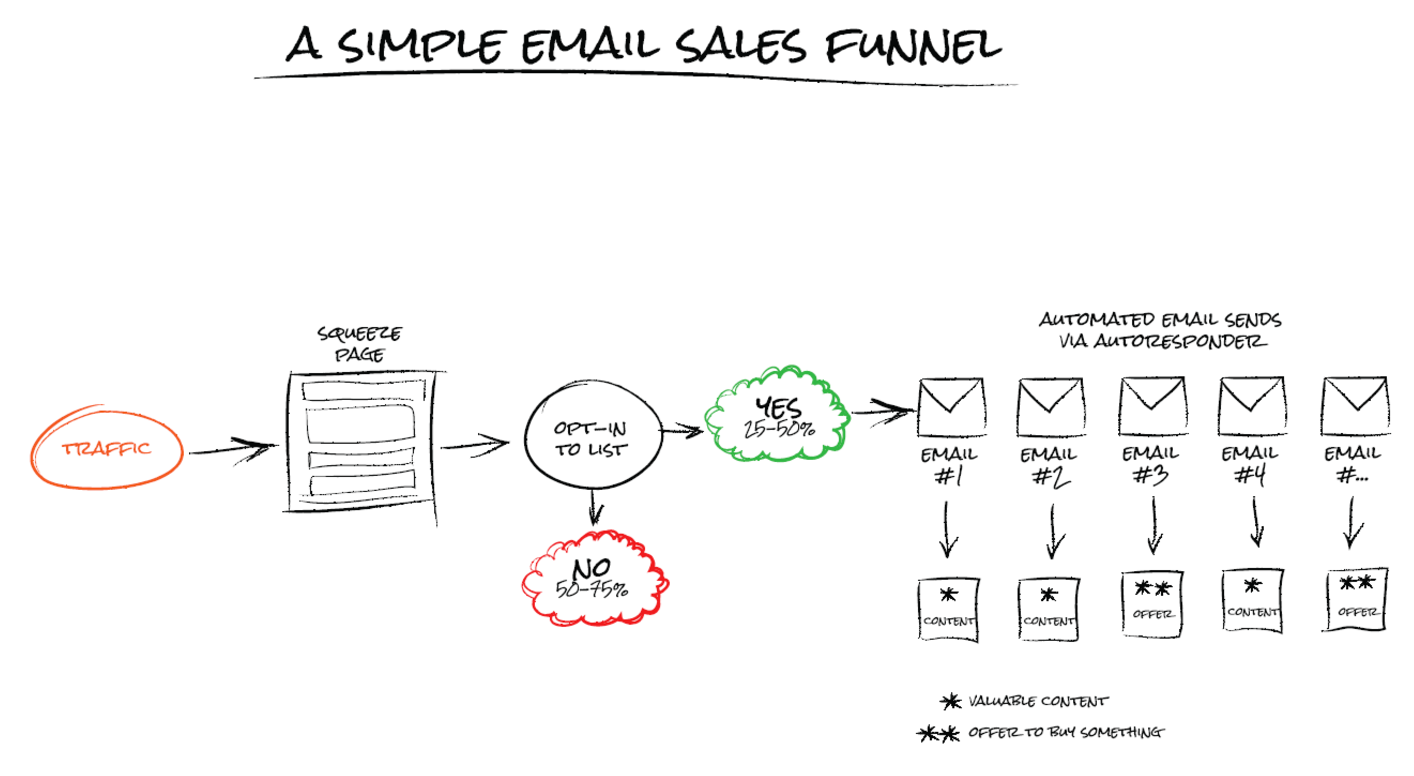 Image credit: SixFigureIdeas.com
As described on AutoGrow, an email sales funnel is a series of emails arranged together with the goals of:
Nurturing a relationship with an email subscriber
Educating a potential customer on the benefits of a service or product
Nudging them to make a purchase decision.
Once you've mastered the process of building an effective sales funnel for your email subscribers, there is no cap on the ROI you might see. With so much traffic and email floating around the internet today, you can buy more leads and advertising anywhere. This is why email lists with a sales funnels are so important and successful in business today.
Expanding into the World of Affiliate and Referral Marketing
We've talked about different ways to create content and engage with an audience through video and email, but we should also discuss the opportunities within affiliate and referral marketing as well.
If you want to have a successful business online, you need to have some form of monetization. But, what if you don't have a product or service to sell?
This is where affiliate marketing comes into play. Affiliate marketing is the process of earning a commission for sending a qualified lead, sales, or transaction to another site. Think Amazon.com and their associates program. They will pay anywhere from a 1-10% commission on referred sales from your site.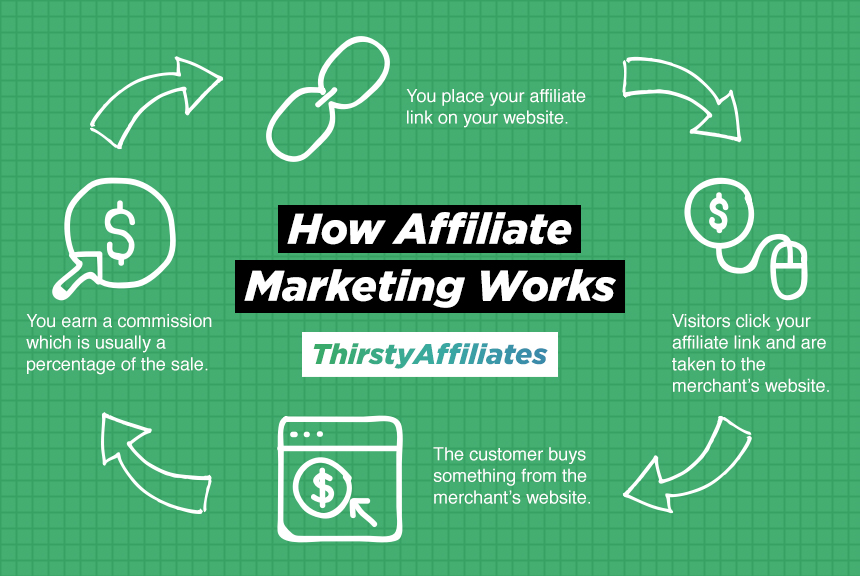 Amazon was one of the first sites to offer affiliate marketing, but now it's almost a requirement for companies who do business online. To find an affiliate program that might serve well for your business and audience, take a look at this affiliate directory.
On the flip side, affiliate marketing can also be used to grow your online business as well. Instead of getting paid to promote another business and selling their product, your business could recruit affiliates to do the same for them. Platforms like Shareasale, Commission Junction, and Rakuten Linkshare are loaded with thousands of smaller affiliate programs and do all of tracking, management, and payments to affiliates.
Grow Your Sales and Lead Generation Business with these Methods
The internet is growing at a massive pace, and there are now more than three billion connected users around the world. The future of business is happening on the internet now, and these are the everyday methods that are being used to grow businesses of all sizes.
Take a step back and look at your business today. How could content and video creations efforts send your business on the right direction? Are you also managing your email list in the best ways possible? And lastly, if you don't already have an affiliate or referral program in place, right now might be a great time to start one.
Analyze each of these methods and see which might be best for your business. And as always, if you have any questions or comments, feel free to contact AfterOffers at any time. We would love to start working with you and sending hundreds of new 100% opt-in subscribers to your business daily.
Comments
comments