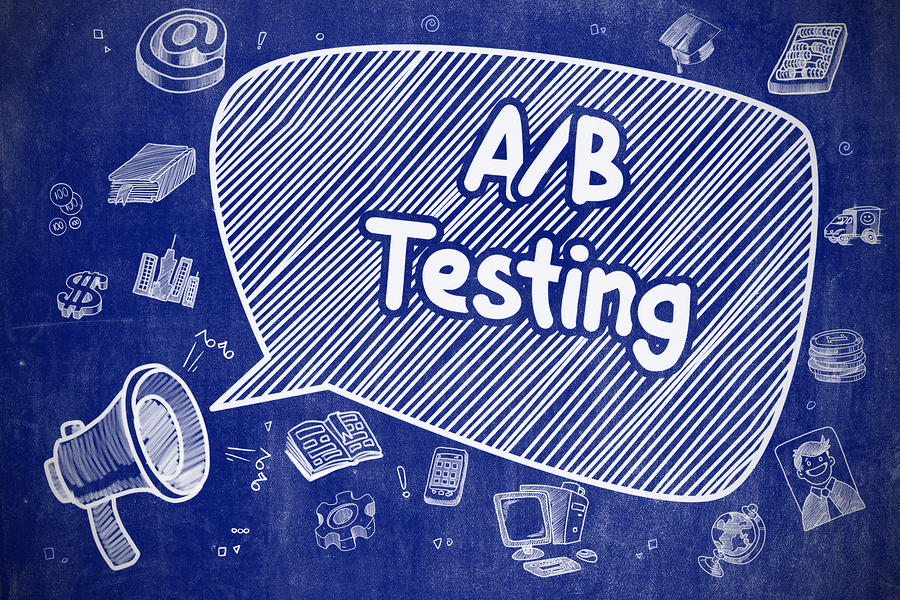 Of all the different things you can do with email marketing, A/B split testing has to be one of the most important. When sending out thousands (or even millions) of email, the smallest swing of a percentage can result in thousands of leads or dollars in revenue. That is why it's extremely important to always be testing your conversions, titles and ad copy. The same also holds true for websites, sales pages and lead generation forms.
To help with this process, we've created an excellent resource guide from some of the top A/B split testing case studies across the internet today. The only better way to learn about how to split test and improve numbers on your own campaigns, is to see how other sites have been able to accomplish this as well.
Each of the case studies and guides are unique in their own way. Some are focused on email conversions, while others focus on the elements on the websites that are driving those email and on-site purchases.
Also, don't forget to view our email optimization and sales funnel case study round ups as well.
10 A/B Split Testing Case Studies and Guides to Improve Conversions
Bionic Gloves Promo Code Box Case Study
This case study by Bionic Gloves was carried out on behalf of their online stores at Bionic Gloves. The company sells golfing gloves and other fitness type gloves. Their focus is to provide customers with gloves for use with fitness activities that fit better than the competition, comfort, and durability.
The company decided to create a case study to find out if removing their "special offer" or "gift card" offer from their website would increase sales and shopping cart abandonments. To test their hypothesis, they created an A/B split test with two different sites, one with the offers and one without.
Results: The variation won and increased the total revenue by 24.7%, and revenue per visitor by 17.1%.
MeidenRich ComputerTrainings
MeidenRich ComputerTrainings did a case study involving software training courses that they sell on their online website. They decided to run a split A/B test on their URLs to see which one was producing the most hits and email inquiries.
The variation they were looking at involved trying out an alternative course for some of the hottest-selling courses.
Results: The results of the MedienReich split test were significant. It turned out that the variation (B site) had better results and increased engagement by 40.87%.
They ran the test over a period of 20 days and the year-on-year value of the homepage increased by 106.42% from $2149.72 to $4436.41.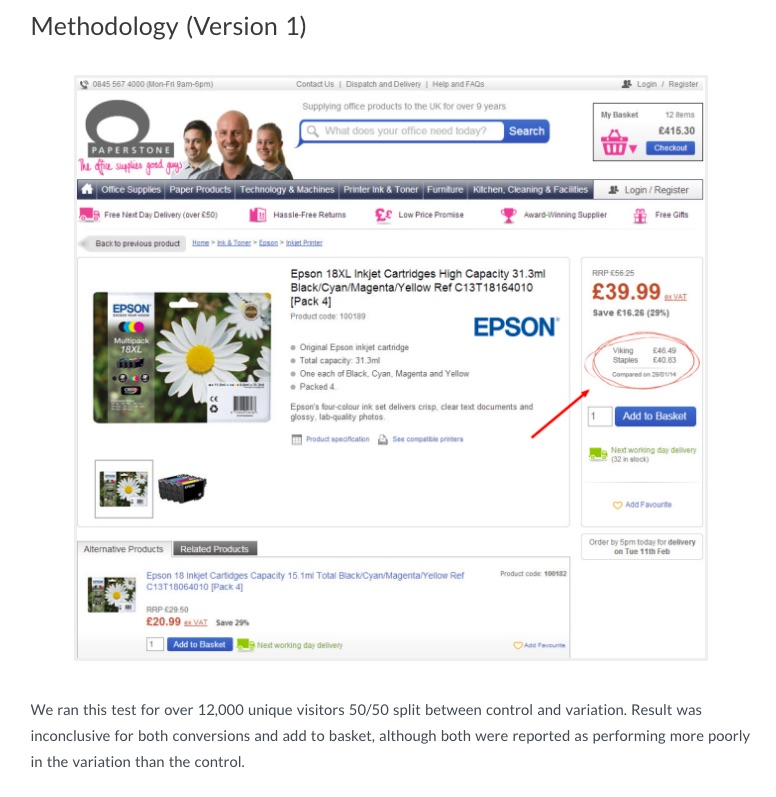 Office Supplies Price Comparison
Office Supplies conducted an experiment to see if displaying their competitors higher prices on 5,000 product pages would result in more clicks on the "Add to Cart" pages and increase the overall market conversion rate.
They created two websites, one without the competitors' prices and one with the prices to see if it made a difference in email responses and sales on their website.
Results: The test was run over for over 12,122 unique visitors and a 50.50 split between the control group and variation. The results showed a 10.67% conversion rate, though the results were inconclusive for clicks on adding to the shopping cart.
White Card Courses: Case Study on Placing Trust Badges and Tweaking CTA Buttons
White Card Courses, a company that specializes in training courses for people in the construction space across Australia, wanted to test to see if tweaking the "call to action" buttons on the page and placing trust badges in obvious view would increase email inquiries and responses on the site.
To carry this out, they conducted their own split A/B test that changed the position of the trust badges to put it in plain site and changing the color and text of the CTA buttons. The test was run on 6585 visitors for a three week period.
Results: The results of the split A/B test showed a 32% increase in conversions from the main homepage and a 20.9% increase in clicks on the payment page. These results showed that changing just one or two things on a website could result in increase email and sales responses.
Frictionless Commerce: Case Study
Frictionless Commerce, a business marketing company, decided to do an A/B test to determine whether the drop down menus of their eCommerce client, Body Ecology, could be changed to increase their conversions.
Results: The variation beat the control factor by 56.43% over a period of two weeks, which resulted in a total increase of $8,880 in revenue for Body Ecology. The projected annual increase this will produce is $230880. This is a significant result and shows the power of changing just one thing to make your site more responsive or user-friendly.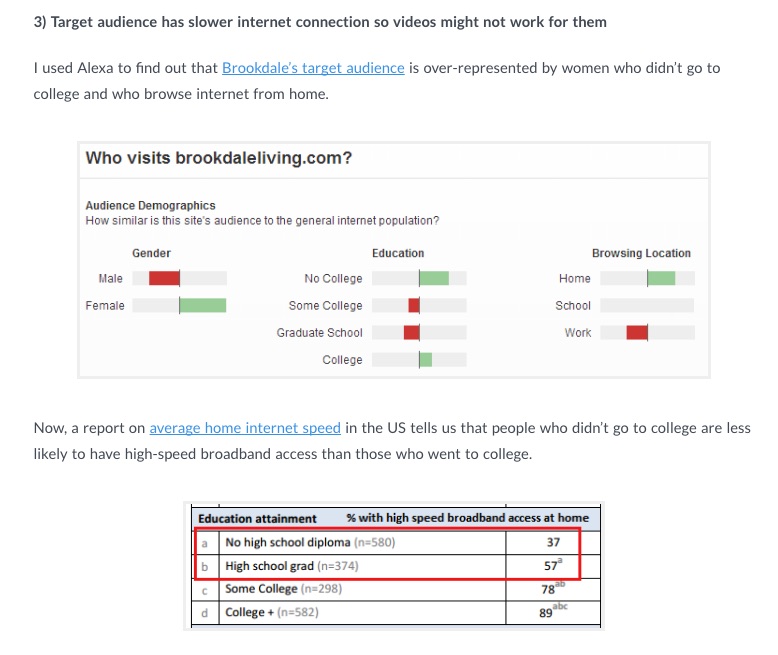 BrookdaleLiving.com Case Study
BrookdaleLiving.com is a company that offers community living solutions for senior citizens.
Brookdale hired a digital marketing firm to optimize its "Find a Community" page. So they redesigned the page by adding extra content, testimonials, and other elements to perform an A/B split test with two versions of the site.
Results: The variation (B page) increased conversions by 3.92% and the monthly revenue rose by over $106,000.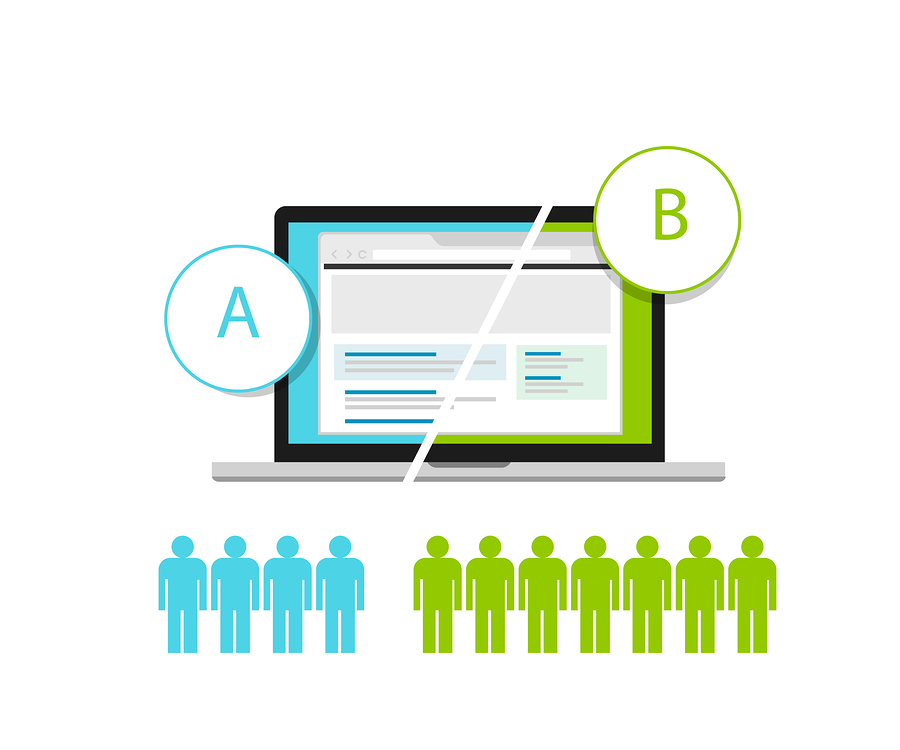 Guides to Conducting an Email A/B Test
– Behave.org
– HubPages Email Testing Guide
– Visual Story Lab
– MailChimp
– KissMetrics A/B Split Testing Email Guide
Conclusions: Email A/B Split Testing Case Studies
These studies and online guides bring out some interesting facts. It's amazing that such simple changes could affect the results so strongly. Most experts recommend that you change only one thing at a time, in order to carry out a truly scientific study or A/B split test. However, in the case when case studies were carried out by changing more than one element, the only disadvantage seemed to be that it is difficult to know which factor was most influential in the change.
In addition to split testing, growing your mailing list in size is something you should also be focusing your efforts on. This is something AfterOffers.com does extremely well, and is quite cost effective in comparison to industry standards. Click here to contact us and see how we can start delivering hundreds of new opt-in subscribers to your mailing list daily, or simply watch the short video below.
Comments
comments