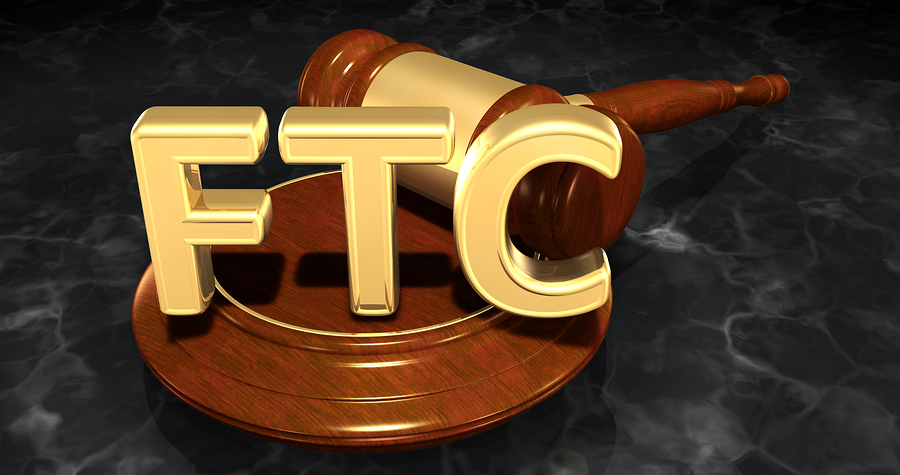 Businesses have increasingly turned towards email marketing in recent years. Companies must have a web presence to be successful, and email marketing allows the company to bring a large audience to their web presence. Traditional marketing can cost thousands of dollars to reach a few thousand people, while some companies sell email addresses for around a penny a piece. But like traditional marketing, the FTC has established rules and regulations for these campaigns to protect users and their inboxes. Make sure to follow these rules in order to stay on the good side of state and federal regulators.
The most relevant FTC regulation to these email marketing campaigns is the federal CAN-SPAM Act. This law, created to help clear American inboxes of the thousands of unwanted spam emails they receive every day, covers several forms of communication from companies. The most specific regulations are attached to commercial content, which advertises or promotes certain content without being initially authorized by the user. There is also transactional content, which is sent as part of an agreement between the user and the company involved.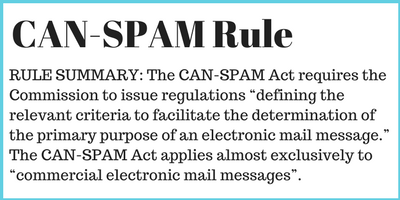 At the heart of FTC regulations surrounding email marketing is trust. A basic level of trust should be evident throughout a company's campaigns. First, the heading of the emails should be truthful and not misleading. This heading involves the From, To, and Subject lines. These lines must identify relevant information about a company and the purposes of an advertisement. Advertisements which incorrectly purport to be from a bank or government agency may drive more clicks, but they are illegal under this law and could result in disciplinary action. Subject lines must point to the advertisement being an advertisement in a particular field. They should not reflect personal emails or official emails from other companies or organizations.
Rules to Follow for CAN-SPAM Compliance
The following section has been provided via Hubspot, in reference to the disciplinary actions that are set forth by the FTC, and how to stay compliant with such regulations in place. In order to be CAN-SPAM compliant, it's important your email messages follow these rules, which can be found in full over at the FTC's website.
DO
Do include your valid physical postal address in every email you send out.
Do provide a clear and obvious way to opt out of every email you send out, and honor the unsubscribe within 10 business days.
Do use clear "From," "To," and "Reply to" language that accurately reflects who you are. This applies to the person or business sending the message, as well as the domain name and email address.
DON'T
Don't sell or transfer any email addresses to another list.
Don't make it hard to unsubscribe from emails. You cannot 1) charge a fee 2) require a recipient to provide personally identifying information beyond an email address, or 3) make recipients take extensive steps other than simply replying to an email or visiting a single page on a website to unsubscribe themselves from your emails.
Don't use deceptive subject lines in your emails that misrepresent the contents of your message.
After these upper components, the advertisement basically needs to identify itself as an ad. There should be some indication that it comes from a company, both in the subject line and in the text of the ad itself. Part of being identified as an ad is the need to verify physical location. Any email marketing campaign must be rooted in a physical address verified by the United States Postal Service. This requirement helps make the company responsible for the email advertising campaign.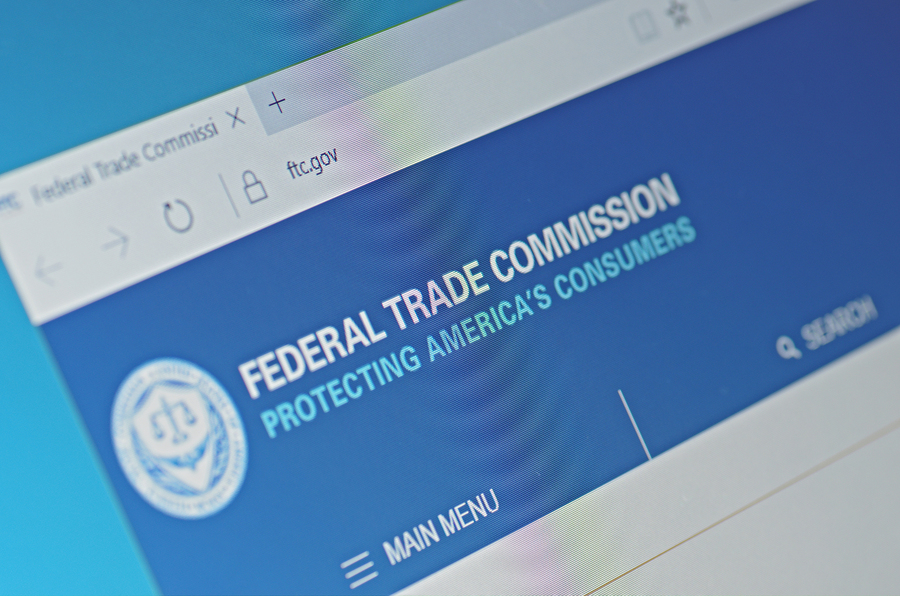 Email marketing campaigns also need to have an opt-out provision which allows the company to opt out of any future emails from the company. This provision is used to help prevent emails from constantly filling the inboxes of people who do not want them. Email is cheap and effortless to send to millions of people, so this problem occurs frequently. Opt-out provisions give customers a way of controlling the flow of marketing to them. They also can help the reputation of a company by controlling their reputation among people who may be interested in a company but do not want constant communication from that company. In addition, there is a provision in the CAN-SPAM Act that requires companies to honor opt-out requests in a timely manner. You must honor the request within ten business days and you can only receive/request the email address from the client. No other personal information can be requested. Also, you are unable to sell or transfer the email addresses from those who have opted out except to a company you have hired to help you comply with CAN-SPAM Act rules.
Finally, there are several questions of liability and responsibility that must be addressed when considering an email marketing campaign. If you decide to hire out your email marketing plan, make sure that the company you work with is following all relevant FTC regulations. Both the company and the email marketer may be held legally responsible if they fail to follow the law. This liability includes any fines or sanctions that may be handed down from the FTC for previously discussed violations of the CAN-SPAM Act.

How to Grow a Legitimate Email List with AfterOffers.com
Email marketing is a complex business that is fraught with numerous challenges, including the specter of government fines and constraints. The process can be complicated and most companies simply want to focus on their core businesses. Other companies can be helpful in easing the burden. We can help your business navigate the complex world of email marketing by focusing only on providing our clients with the highest of quality, while also making sure all email subscribers are acquired through 100$ opt-in methods in the process.
Through our sophisticated list and email lead generation process where we work directly with only hand-selected and high-quality websites, we can target the most responsive subscribers and can help you maintain your list while minimizing failed calls and opt-outs. In a world as complicated and fraught as email marketing, make sure to have a partner like afteroffers.com to provide you with only the highest quality of leads possible.
Comments
comments