To find long-term success in the world of online marketing and business, you need to be growing at all times. This is especially true with email marketing and the size of your mailing list. Theoretically, the more people on your mailing list, the more money you should be able to make. However, increasing your daily subscriber rate is definitely easier said than done.
To help with this process, today we are going to highlight five effective methods to increase your mailing lists and newsletter signups overnight. Each of these methods work extremely well for millions of businesses and brands on the internet today, and now it's time for you to experience the same.
Implement each of these methods to see which might work best for your industry and target audience.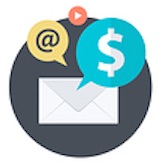 Start a Campaign with AfterOffers
Ok, self-serving, I know. But darn if we aren't GREAT at growing a responsive email list. With the core of our business focusing on email marketing and lead generation, we know what it takes to grow a massive mailing list, while also keeping quality at it's highest at all times. After all, that's exactly why AfterOffers was created in the first place — to help you grow your mailing list fast!
The way AfterOffers works is simple. Someone visits another website and likes what they have to offer, so they then signup for their mailing list. After submitting their email, they are then offered to join other mailing lists that they might be interested in. All email sign ups are confirmed for authenticity and legitimacy.
The value here is that site owners and marketers can quickly grow their list while not sacrificing quality. To learn more about this process, be sure to watch the short video below.
Now that you've seen what's possible through the use of AfterOffers email lead generation service, click here to get started with a campaign of your own.

Test PopUp and Interactive Subscription Boxes on Your Site
Nearly every brand or business has a website or blog online. Did you know that more than 70% of the people that visit your site for the first time will never come back? It's true, and it doesn't really have much to do with your content or brand — it's simply a numbers game. There is way too much information out there, and if you aren't taking advantage of every unique visitor to your site, you are missing out big time.
One of the best ways to grab a percentage of this lost audience is through the use of pop-window and lightbox subscription forms. You've probably already seen these on various sites, and maybe even when you visit this site for the first time. These subscription windows only appear the first time a visitor comes to a site (or is about to leave), and will appear as an overlay so you need to enter your email or close out the box. (as seen below)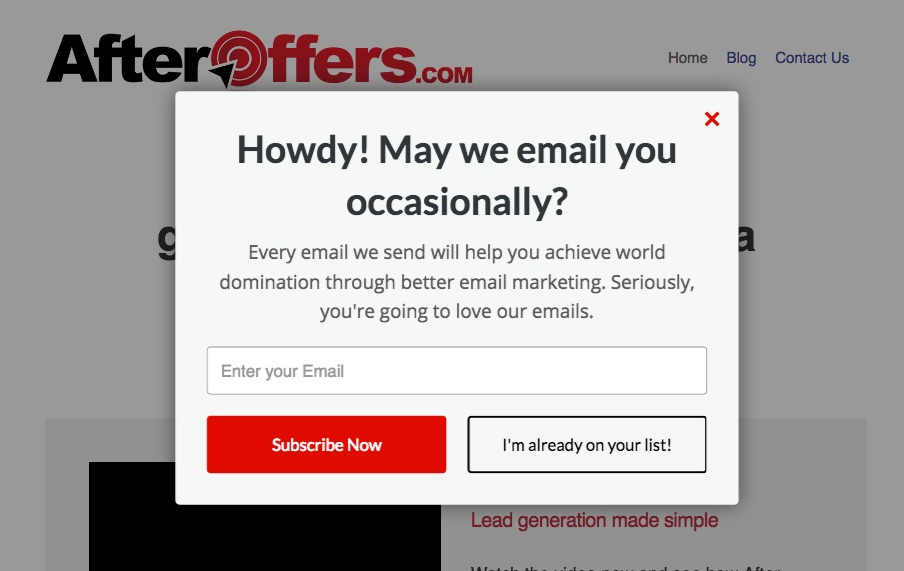 Yes, these may seem annoying, but remember that they usually only appear once every 30 days. If your site is getting 1,000 visitors per day, use of these window subscription boxes could result in an extra 20 to 70+ free signups per day!

Add a Sign Up Form to the Bottom of Your Site Content
For site owners and bloggers, one of the best ways to grow a mailing list is to look for areas of call-to-action that you might not already be using. A good example of this would be if someone was reading through an article on your site and they got to the bottom of the page. What happens when they get there? In most cases, they will probably leave your site.
Instead of letting your audience simply leave your site and never come back again, give them one more opportunity to join your mailing list or sign up to receive a special bonus. Adding a subscription or call-to-action box at the bottom of your existing content is a great way to increase signups without putting anything at risk.

Cross Promote Content and Offers with Other Sites in Your Niche
With so many businesses and brands focusing on their mailing list size, it's safe to say other site owners and bloggers in your niche probably have large lists as well. A great way to instantly increase your mailing list size is to cross promote offers with other experts and trusted sites within your space.
Now, we aren't talking about swapping email lists here. Instead, it's all about the promotion of each other's content and getting users from your mailing list to join theirs, and vice-versa. The benefit here is two-fold; you can increase the size of your mailing list very fast, while also not having to spend any money in the process.
When cross promoting offers with other sites in your niche, make sure you have a solid landing page in place along with a great call to action. Provide something of value to your audience and they will be much more likely to sign up for your list.

Run a Social Sharing Sweepstakes on Your Site
Adding a social media and engagement component to your site is always a great idea. This is especially true when you are trying to build out your mailing list.
Online contests, sweepstakes, and promotions are always going to be a great way to bring attention to your site. When you factor in the ability to allow a user to enter their email address and increase signups through the use of social sharing, then you really have a big winner.
In reference to prizes, it's always best to give away something related to what you already sell or offer as a service. The reason for this is that you want people to join your mailing list and enter your contest because they are interested in the prize. A good example of something not to give away would be an Apple iPad or iPhone, as everyone wants one and they would likely have no interest in whatever it is you are trying to sell or market in the process.
No matter what your base product or service is, running an online sweepstakes or contest is a great way to increase signups to your mailing list.
You Have the Power to Determine Your List Mailing Size
At the end of the day, what most site owners and marketers don't realize is that they don't need to start from scratch and grow their business one visitor at a time. Gone are the days of creating content, waiting to rank in the search results and only growing a mailing list based off your own site traffic. Through each of the methods above, you now have the ability to reach out to millions of potential customers easier and more cost-effective than ever before.
Contact us today to learn how we can help you reach your email marketing and mailing list goals as soon as possible!
Comments
comments